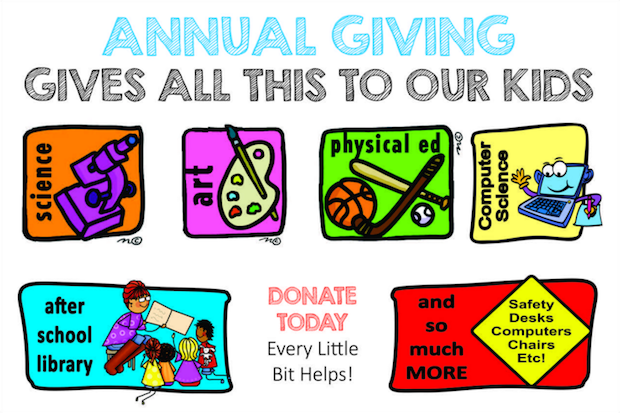 2017-18 Annual Giving
With the start of what is sure to be an incredible new school year, the E-TEAM is excited to announce this year's Annual Giving rewards. Rather than utilizing our resources to purchase outside items, this year we will be focusing on something far more valuable – our community. Please take a look at all the fun you and your kids will have this year supporting our school!
100% of your Annual Giving contributions go to fund our incredible PE, Computer, Art, and Science programs – as well as many other classroom improvements. The LAUSD doesn't have a budget for these types of "extras" – but we do!
The ask is $500 per student – that's an entire year for about $2 per day. If you can give $500 or $1000, please do! We only reach our full potential as a group when we all strive to give as much as possible as individuals. Each tier includes all rewards from previous levels (excluding raffle entries).
Payment plans are not available online.
---
$500 
ECES Car Magnet
ECES Backpack Buddy
Movie Night VIP Package
$25 Spirit Wear Certificate
(2) Reserved Seats for 5th Grade Graduation
$1000 
(2) Magnets, Backpack Buddy
Dance Party Yeah! VIP Package
(1) Yearbook
(2) Reserved Seats Holiday Show #2 or 3 (excludes 9am early show)
$1500 
Reserved access to the early 9am Holiday Show (exact time TBD)
(2) Tickets for Spring Gala (parents only)
Birthday Marque - your child(ren's) name on the new digital marque for 2 weeks
$2000 
Free Drinks for 2 at Spring Gala
Guest DJ at Dance Party Yeah!
Full Page Yearbook Dedication
Principal for a Day (students only)
To donate now, fill out the form below.